Laekenois, Truly One of The Best Kept Secret in Dogs.
The Laekenois de Rafale are beloved family members and capable canine partners that do it all. A kind, affectionate and highly intelligent disposition make for a Life with a Laekenois an experience of a lifetime.
Demonstrating accomplishments in many venues. There is really nothing a Laekenois cannot do. The dogs featured below are an example of the capabilities of the Laekenois. Their ability to execute to near perfection in a multitude of disciplines is a rare find in the canine word. They approach their work joyfully and with a sense of humor.
Gosha
BISS Jet Spirit of Land CM PT HSaS FDC CGC TT
A Ukrainian bred import bred by Olena Lakoshko from a dam who excels at every sport she tries, from Mondioring to Bikejoring to Canincross and even competitive Dog Sledding. His sire from Germany's Alexandra Finke is the well known BS15, BS17, WW17, DT VDH CH Galdra's mind a Son of Mine BH , an exceptional dog with a warm and outgoing temperament.
Gosha is a kind, loving dog with a very open temperament. Gosha never meets a stranger.
2019 National Specialty Best of Breed American Belgian Laekenois Association
Herding Titles: HSaS PT FDC
Temperament Testing: CGC ATTS TT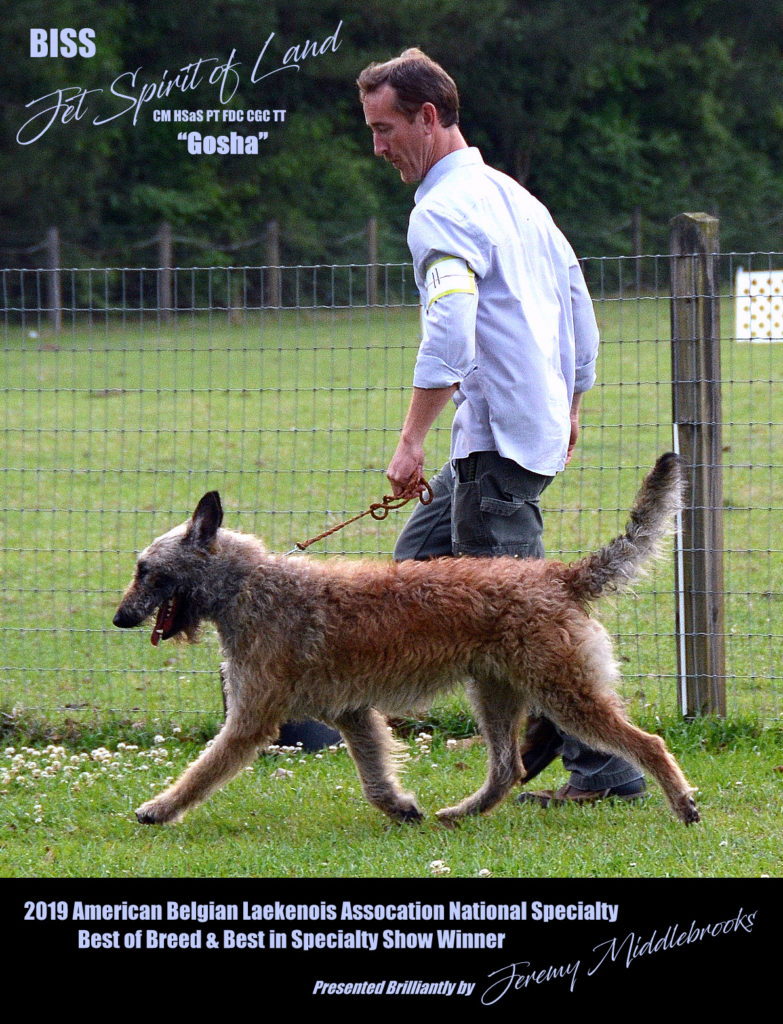 Nina
BISOPEN4 BOSS HHIT HRHIT HHITC Sinanju's Naga Jolokia of Sunny CM PT HSaS FDC CGC TT
A Swedish import from Maria Wilhamsson's Sinanju Laekenois. Her dam KORAD, Nord CH Vajert Alpha Tjh is a highly accomplished Laekenois who is active in Border work and tracking. Nina's sire is also Alexandra Finke's BS15, BS17, WW17, DT VDH CH Galdra's mind a Son of Mine BH .
Nina has proven herself to be highly capable and adaptable. A multiple Best in Show Open winner, her accomplishments in the conformation ring are only matched by her excellence in the herding arena. All of her titles were accomplished by the age of 2 years.
She is amazingly dynamic, as in one weekend she accomplished winning Best Opposite Sex at the National, 2 Best in Open Shows, Best in Herding Sweepstakes, Best in Grand Sweepstakes for the second year in a row. In the herding arena she defeated the Australian Shepherds and Border Collies for High in Trial, Reserve High in Trial and High in Trial Combined. Nina also accomplished her ATTS TT (Temperament Test) title, Canine Good Citizen and Farm Dog Certification. She is shown here with co-owner Trisha Thibodeax. She competes in the Herding Arena with Shelly Spottswood of WonderDog Farms and our Junior Handler Vianne.
2019 National Specialty Best of Opposite Sex American Belgian Laekenois Association
Herding Titles: HSaS PT FDC
Temperament Testing: CGC ATTS TT
.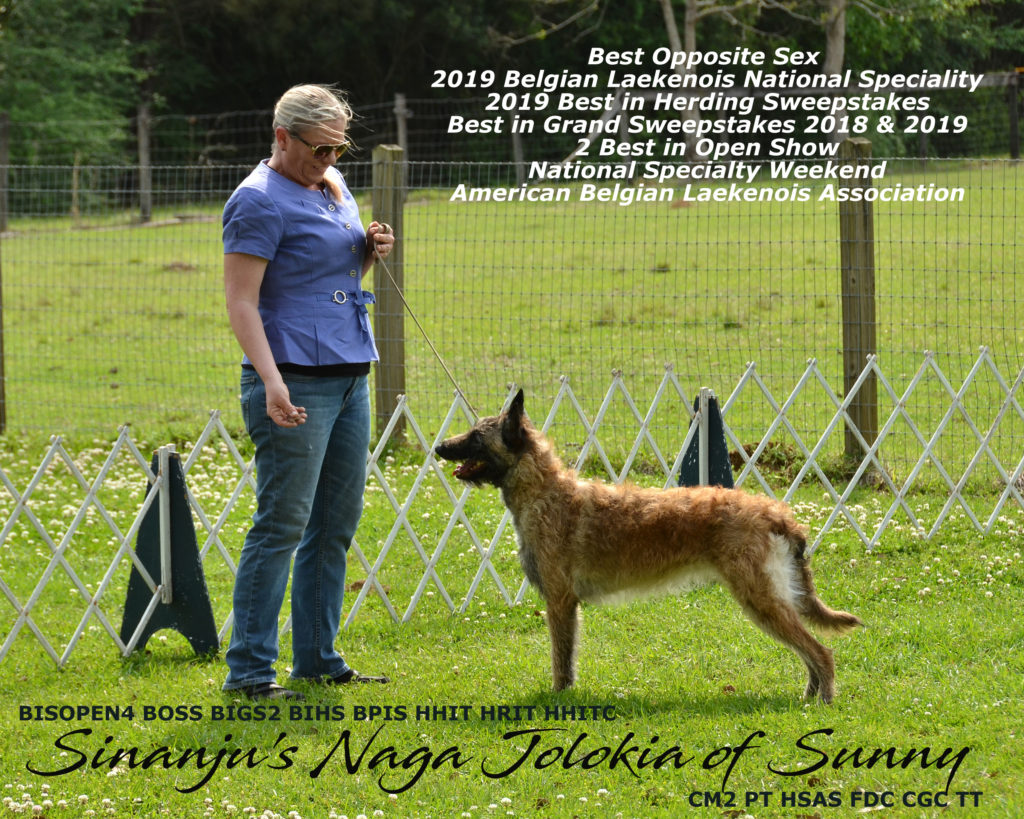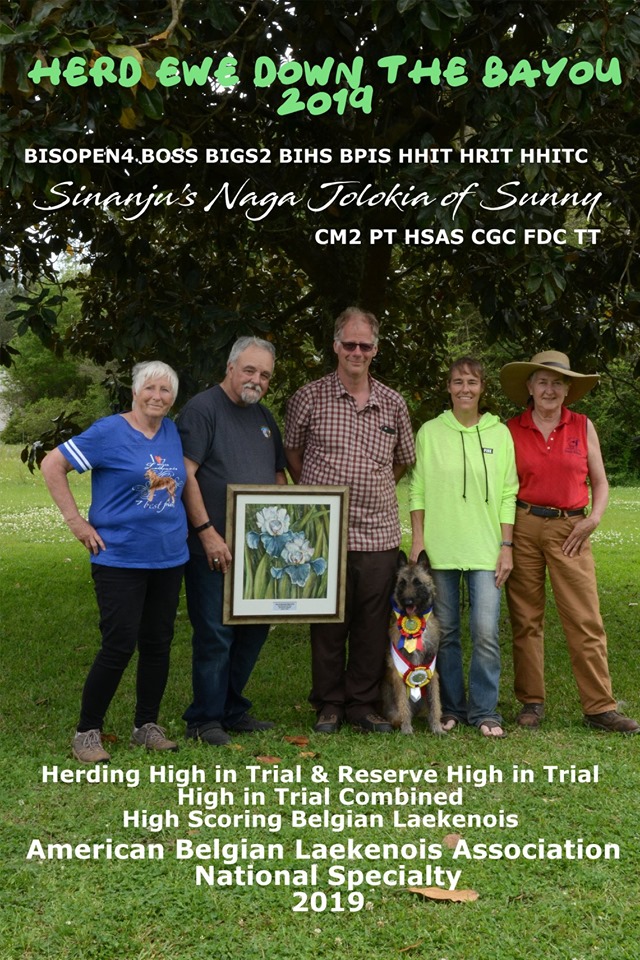 Piper
BISOPEN3 Sinanju's Bejla of Quint UD CM CD PCD RN RM RAE CA DCAT ACT2 FDC TKA RATCHX CZ8PB DN CGC TT
Congratulations to Pam Bartholomew!
Piper has completed the AKC Utility Dog (UD) Title and has begun work on her Utility Dog Excellent (UDX) 23 August 2020
#1 Misc Group Rally 31 March 2020
A Swedish Import from Maria Wilhelmsson's Sinanju's Laekenois, Piper's dam KORAD, Nord CH Vajert Alpha Tjh , sired by Alexadra Finke's incomparable pE, multi V1, BIS, JW06, W06, WW09, DT, NL & SK CH Quint Var Letsager IPOI, OB2, CACIB, ZTP .
Piper has demonstrated the versatility of her heritage under the close guidance of highly accomplished owner and handler Pam Bartholomew. Excelling in Obedience, Rally, Barn Hunt, Lure Coursing and Temperament Tested as well. Piper is the first Laekenois to receive the Rally Master title.
Pam's generosity of spirit and Piper's excellent temperament and movement have allowed her to excel in the conformation ring as well as the herding arena with junior handlers Luke and Vianne.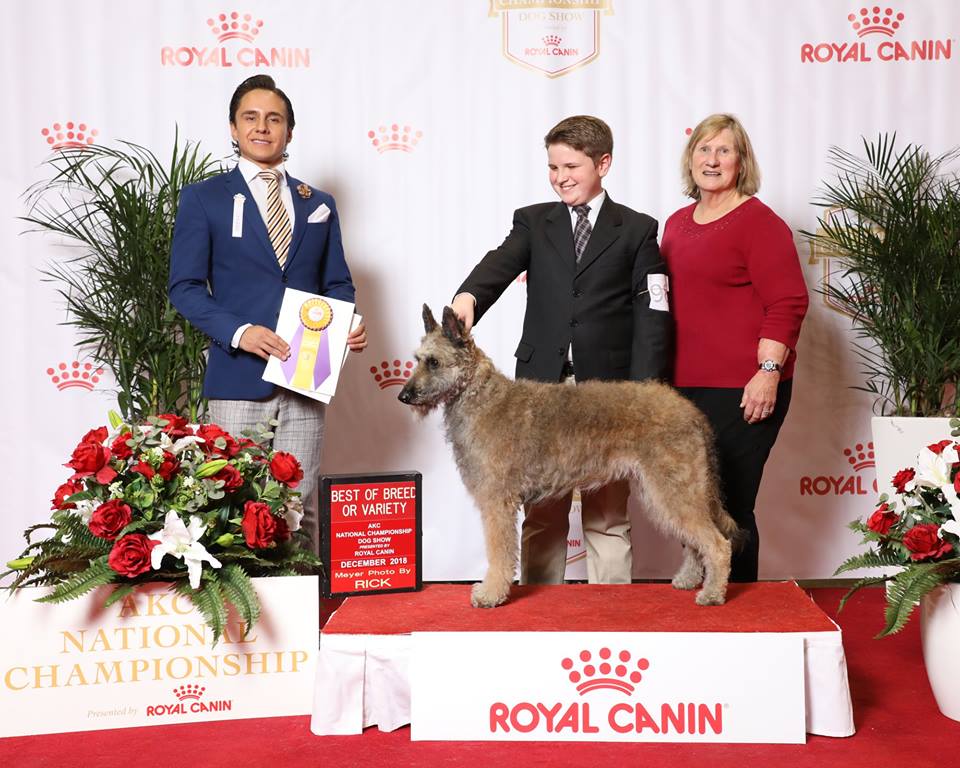 Mac
Flaxfields I Got A Roughside CM6
Mac was an unexpected arrival at Rafale, due the unexpected death of his breeder, owner handler Lou Anne Craft. Mac has been strictly a conformation dog as this was his owner's preference. He is the highest winning Certificate of Merit Laekenois in the history of the breed with a CM6. Winning Best of Breed at the AKC National Championship Show in 2014, 2015 and 2017. Mac has a sweet, calm personality and is super easy to live with.